Air Ride (エアライド, Ea Raido) is a combination dribble hissatsu technique.
Description
Inazuma Eleven 3: Sekai e no Chousen!!
"Hang ten! Ride the waves using the ball as a surfboard!"
Users
Inazuma Eleven 3
Inazuma Eleven GO Galaxy
Inazuma Eleven GO Strikers 2013
Info
Air Ride was a technique used by Maxi Kuu and Goushu Flare from Little Gigant. He used it to get past Kidou Yuuto. He was able to evolve it until V3 and used it again to get past Kidou.
Usage
This is hissatsu requires two users. The first user kick the ball and it transforms into a surfboard while the other users uses the 'surfboard' to jump over the opponent.
Acquirement
Inazuma Eleven GO Galaxy
Technique shop in Abookle Street (アブックルストリート) on Sazanaara, 1500P
Gallery
Slideshow
Anime
Video
Anime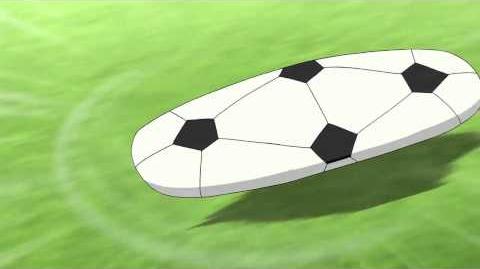 Game
Inazuma Eleven GO Strikers 2013