Athena Assault (アテナ・アサルト, Atena Asaruto), also known as Shoot Command K02 (シュートコマンドK02, Shūto Komando Kē-Zero-Tsū), is a keshin shoot hissatsu technique.
Users
Keshin
Info
It was first used in episode 16 by Beta and scored the first point for Protocol Omega 2.0, breaking through Nishiki's keshin and passing through Shinsuke, who was about to use his Keshin Armed, but couldn't complete it due to the speed of the shoot.
It was later used again by Beta in episode 43. It scored El Dorado Team 02's third goal, as Bufuu failed to catch it using Rejection.
Usage
The keshin forms a violet and a blue energy balls from its weapons, which merge with the ball and the user shoots it into the goal from mid-air.
Slideshow
Anime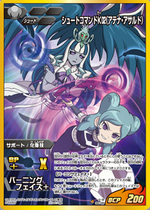 Video
Anime
Inazuma Eleven GO 2: Chrono Stone
Inazuma Eleven GO Strikers 2013