Atomic Flare (アトミックフレア, Atomikku Furea) is a shoot hissatsu technique.
Description
Inazuma Eleven GO 2: Chrono Stone
"Charge the ball with the flames from a dying sun, and shoot!"
Users
Inazuma Eleven SD
Burn (Invasion Preparation & Strong Enemy Attack「The Chaos」forms)
Usage
The user jumps up high and a sun is seen below him. As he starts to make a backflip, a flame appears near one of his feet. Then, he kicks the ball and fire appears on it, surrounding the ball.
Info
It debuted on episode 48 when Raimon was searching for the flame striker,it was able to break through Endou's Majin The Hand. Later, it was seen in the match when Nagumo was in Chaos. It was able to break through Tachimukai's Majin The hand, but was stopped by Tachimukai's Mugen The Hand. The last time it was seen, was in the match between Fire Dragon and Inazuma Japan. It scored a goal for Fire Dragon, breaking through Tachimukai Yuuki's Mugen The Hand G5.
Slideshow
Anime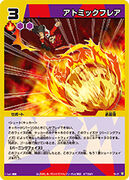 Video
Anime
Game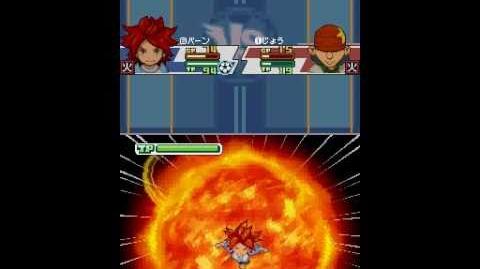 Inazuma Eleven GO Strikers 2013
Trivia
In the Wii games, when you use Atomic Flare the ball disappears and then reappears when Nagumo shoots to the goal.

It may be possible, however, that the ball is hidden within the flames.
Community content is available under
CC-BY-SA
unless otherwise noted.