Bison Horn (バイソンホーン, Baison Hōn) is a shoot hissatsu technique.
Users
Anime
Inazuma Eleven AC: Dream Battle
Info
Baek Shi-Woo used Bison Horn twice during the match between Inazuma Japan and Red Bison. Its first attempt scored the first goal for Red Bison after Park Ji-Won obstructed Endou Mamoru's view by whipping up sand. This prevented Endou from using his Fuujin Raijin. After Gouenji Shuuya went off injured, Bison Horn was used again, but this time, Endou was able to stop it with his Fuujin Raijin.
Usage
The user kicks the ball in the air and then stamps on the ground, emitting some red aura around them. A bison appears behind them and the user starts to charge towards the ball with the bison running beside them. The user then hits the ball with their head and the ball is surrounded by a red aura while it heads for the goal.
Slideshow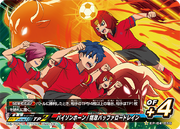 Video
Community content is available under
CC-BY-SA
unless otherwise noted.