Body Shield (ボディシールド, Bodi Shīrudo) is a combination block hissatsu technique.
Description
Inazuma Eleven 2: Kyoui no Shinryakusha
"Create an impenetrable defense with three team-mates of average build!"
Users
Anime only
Inazuma Eleven 2
Inazuma Eleven 3
Info
Debuting in episode 29 of the Inazuma Eleven anime, Body Shield was used by Sumisu Eiji, a defender, along with two other defenders. This was used successfully against Someoka.
Obtainment
Inazuma Eleven 3: Sekai e no Chousen!!
The manual for Body Shield can be bought for 10000 Nekketsu points at Cotarl's hissatsu store.
Usage
This move involves three users. One user push the other user's back while that user push the main user's back and an overwhelming power appears, knocking the opponent away while the the user receives the ball.
Slideshow
Anime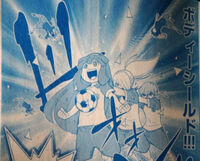 Video
Anime
Community content is available under
CC-BY-SA
unless otherwise noted.