Casting Arm (キャスティングアーム, Kyasutingu Āmu) is a catch hissatsu technique.
Users
Inazuma Eleven SD
Info
Nishikage used his new hissatsu during the second half of the match between Inakuni Raimon and Outei Tsukinomiya. He succeeded in stopping Kozoumaru Sasuke's Hidaruma Bakunetsudan which Nishikage failed to stop in the first half by using Ouke no Tate.
Usage
The user runs from one end of the goal to the other, stretching their arm. A red aura comes from the hand, which turns into a red beam and heads for the top corner of the goal. The beam develops a hand at the end, which grabs the shot and crushes it. The beam than returns to the user's hand, stopping the shot.
Slideshow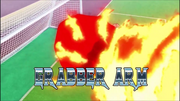 Video
Anime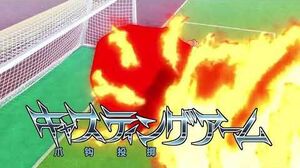 Trivia