Crystal Barrier (クリスタルバリア, Kurisutaru Baria) is a catch hissatsu technique.
Users
​Info
Crystal Barrier was used during the match between Raimon and Hakuren. Shirosaki used it to stop Kurama Norihito's Sidewinder and he succeeded in doing so.
Usage
The user uses their fists and then opens their hands to create a giant crystallized snowflake. The user then uses it to block the shot by freezing the ball and making it fall to the ground.
Slideshow
Anime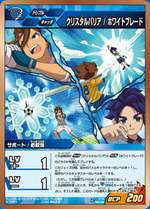 Video
Anime
Inazuma Eleven GO Strikers 2013