Drill Smasher
(ドリルスマッシャー,
Doriru Sumasshā
) is a catch hissatsu technique.
Game description
Inazuma Eleven 2: Kyoui no Shinryakusha
"Spin your hand like a drill to pierce through any shot!"
Users
Inazuma Eleven 2
Inazuma Eleven 3
Inazuma Eleven Strikers
Inazuma Eleven Strikers 2012 Xtreme
Inazuma Eleven GO Strikers 2013
Inazuma Eleven SD
Info
Original series
Drill Smasher was first introduced in episode 42 by Desarm to defend against Fubuki's Eternal Blizzard in Raimon's match with Epsilon. This hissatsu easily caught Eternal Blizzard, but could not stop Bakunetsu Storm when Gouenji used it after he came back to Raimon to fight against Epsilon Kai. 
In season three, it was used by Genda who evolved it into V2 and stopped Wolf Legend. It was used again in episode 77 but failed to stop Bakunetsu Storm again.
Inazuma Eleven Ares no Tenbin
Drill Smasher appeared during the match between Eisei Gakuen and Inakuni Raimon. Saginuma Osamu used it to stop Inamori Asuto's Shining Bird. Later, he challenged Asuto again to shoot at him, and he stopped Shining Bird again with this hissatsu. During the last seconds, his goal was taken under fire by Hokkyoku Guma 2gou, and he used Drill Smasher again trying to stop the shot. However, he failed to do so, resulting in Inakuni Raimon's winning 6-5 goal.
Inazuma Eleven Orion no Kokuin
During the match between China's Soccer Zatsugidan and Inazuma Japan, Drill Smasher was used by Saginuma for The Asura with Endou and Nishikage to stop Li Hao's Tenkuu Hayabusadan.
Movie
It was later used twice in the Inazuma Eleven Chou Jigen Dream Match movie. The first time, it stopped Tsurugi's Bicycle Sword. The second time, it was broken by Aphrodi and Shuu's The Birth.
Usage
The user pulls their hand backwards and then lifts it upwards, summoning a drill. Then, the user thrusts their hand forward, and the drill drills against the ball. In the anime, when it is successfully blocked, the ball lands on the user's hand, whereas in the game, the ball gets deflected.
In Ares, the user charges their fist with a faint greenish light, jumps high while rotating like a drill, and sends the ball flying away with a powerful punch.
Gallery
Slideshow
Original series
Inazuma Eleven Ares no Tenbin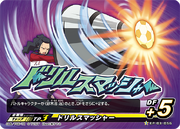 Video
Original series
Inazuma Eleven Ares no Tenbin
Game
Inazuma Eleven GO Strikers 2013
Community content is available under
CC-BY-SA
unless otherwise noted.