Dynamic Corona (ダイナミック・コロナ, Dainamikku Korona) is a catch hissatsu technique.
Users
Anime
Inazuma Eleven AC: Dream Battle
Info
Falcon used the technique during the match between Inazuma Japan and Arab no Hinotori Gundan. He tried to stop Haizaki Ryouhei's and Kira Hiroto's Penguin The God & Devil with it but he failed, resulting in a goal for Inazuma Japan. Later, Falcon faced Hiroto's The Explosion and this time, he managed to stop the shot with his Dynamic Corona.
Usage
The user crouches and then jumps up in the air. There he throws his arms down, summoning a sun, from which a solar flare emerges. The solar flare goes towards the ball as a way to catch it.
Slideshow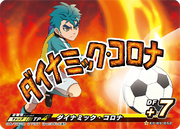 Video
Anime
Community content is available under
CC-BY-SA
unless otherwise noted.