Evolution (エボリューション, Eboryūshon) is a combination shoot hissatsu technique.
Description
Inazuma Eleven GO
"How many players does it take to score? Three - two to charge, one to kick!"
Users
Inazuma Eleven GO
Inazuma Eleven GO 2: Chrono Stone
Inazuma Eleven GO Galaxy
Inazuma Eleven Strikers 2012 Xtreme
Inazuma Eleven GO Strikers 2013
Info
Evolution was used by Shindou, Tsurugi and Tenma at the end of the match between Raimon and Zero. Several players from Zero tried to stop the hissatsu but with no success. Hebino Makito then tried to stop the shoot as well but Serpent Fang but he failed as well. As the shoot was about to go into the goal, Hakuryuu and Shuu came and used Zero Magnum to stop the hissatsu with success, leaving the score tied.
Acquisition
Inazuma Eleven Strikers 2012 Xtreme
A friendship of 75% is needed between Tenma, Shindou and Tsurugi to acquire this technique.
Usage
First, two users lift the ball and both shoot downwards, similar to how Joker Rains is done. Then, a third user runs and kicks the ball, similar to Mach Wind's usage. The ball heads to the goal with a huge blue aura, surrounded by dark lightnings.
Slideshow
Movie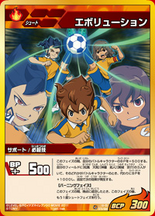 Video
Inazuma Eleven GO
Trivia
Along with Zero Magnum, Burai Hand and Noboriryuu, this is one of the hissatsu which the typography isn't seen when it appears in the movie.
The strength of this technique in Inazuma Eleven GO was listed as "SS" in "Inazuma Eleven GO Shine/Dark: Nekketsu Official Guidebook Kyuukyoku-ban".