Flame Dance (フレイムダンス, Fureimu Dansu) is a block hissatsu technique.
Game description
Inazuma Eleven 2: Kyoui no Shinryakusha
"An intense dance that sets hearts a flame in more ways than one!"
Users
Info
It was first used during the match in season 2 of the Inazuma Eleven anime. Ichinose used this hissatsu to steal the ball from the opponent.
It was used again by Ichinose against Gouenji in the match against Inazuma Japan when he was in Unicorn. This hissatsu also evolved to its Shin form in this match.
Usage
As the name implies, the user is shown to twist first, though it is done upside down, and afterwards creates a flame surrounding the user while spinning upside down and gets the ball from the opponent from the long arms of flames it causes.
Slideshow
Anime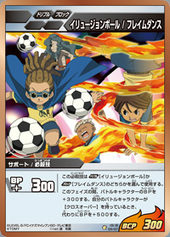 Video
Anime
Game
Inazuma Eleven GO Strikers 2013