GGG Senjou no Aria (GGG線上のアリア, Jījījī Senjou no Aria, lit. Air on the GGG String) is a combination shoot hissatsu technique.
Users
Anime
Inazuma Eleven AC: All Stars
Info
GGG Senjou no Aria was first used during the match between Inazuma Japan and Navy Invader by Aphrodi, Hiroto and Iwato. They scored the third goal for Inazuma Japan, breaking through Bigman's Gunji Eisei Phobos. Near the end of the match, the trio used the technique once again but Domon Asuka, Ichinose Kazuya and Mark Kruger used The Phoenix to stop the technique.
The Gs in the name stand for God (Aphrodi), Golem, God (Hiroto) and are colored accordingly.
Slideshow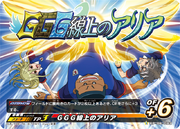 Video
Anime
Trivia
Community content is available under
CC-BY-SA
unless otherwise noted.