God Cannon
(ゴッドキャノン,
Goddo Kyanon
) is a shoot hissatsu technique.
Description
Inazuma Eleven 3: Sekai e no Chousen!!
Users
Inazuma Eleven Strikers
Inazuma Eleven Strikers 2012 Xtreme
Inazuma Eleven GO Strikers 2013
Inazuma Eleven SD
Info
It is used by Kanon in Inazuma Eleven the Movie. It broke through Electrap and scored the second goal for Raimon against Ogre. It was later user again as a chain shoot to be combined with Odin Sword to try and score a goal against Ogre but was blocked by Zagomel's High Voltage.
In Inazuma Eleven 3: Sekai e no Chousen!! - The Ogre, the hissatsu's manual can be found underground in the future.
Usage
First, Kanon kicks the ball with his left leg and runs towards the ball. Then, he spins in mid-air and kicks the ball with both legs, surrounding it with a yellow aura towards the goal.
Slideshow
Movie
Video
Anime
Game
Inazuma Eleven Strikers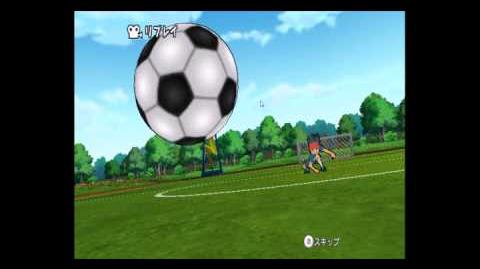 Community content is available under
CC-BY-SA
unless otherwise noted.