Gravitation (グラビテイション, Gurabiteishon) is a block hissatsu technique.
Description
Inazuma Eleven 2: Kyoui no Shinryakusha
"Root your opponents to the spot using the power of gravity!"
Users
Inazuma Eleven 2
Inazuma Eleven 3
Inazuma Eleven Strikers
Inazuma Eleven Strikers 2012 Xtreme
Inazuma Eleven GO Strikers 2013
Inazuma Eleven SD
Info
It has been used in the anime with one of the teams in Aliea Gakuen which they stopped Fubuki Shirou in advancing near the goal.
In the game, it is seen to be one of the default hissatsu of some members in the Brockenborg team when you challenged them. Along with some Aliea Gakuen teammembers when challenged also in the game, most likely the same in the anime.
Usage
The user calls on some dark shockwave and whoever is in range goes down through sheer gravitation along the ball to which the ball is taken.
Slideshow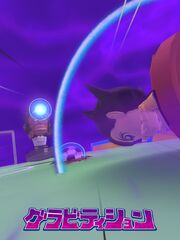 Anime
Video
Anime
Inazuma Eleven GO Strikers 2013
Community content is available under
CC-BY-SA
unless otherwise noted.