Harvest (ハーヴェスト, Hāvesuto) is a block hissatsu technique.
Users
Anime only
Inazuma Eleven
Inazuma Eleven 2
Inazuma Eleven 3
Inazuma Eleven AC: Dream Battle
Info
It was first used in episode 77 in order to steal the ball from Toramaru and it was used successfully. Harvest is originally a hissatsu of Senbayama but was never used in the anime. Makiya probably learnt this hissatsu from his teammates when he came to Neo Japan.
Obtainment
Inazuma Eleven 3: Sekai e no Chousen!!
The manual for Harvest can be bought for 3800 Nekketsu points at Cotarl's hissatsu store.
Usage
The user and their teammate are sliding to the ball. When they come close, blue lines appear and steals the ball from the opponent. Then the user leaves with the ball.
Slideshow
Anime
Video
Anime
Inazuma Eleven AC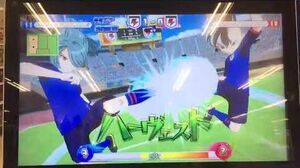 Community content is available under
CC-BY-SA
unless otherwise noted.