Hidaruma Bakunetsudan (火だるまバクネツ弾, lit. Flaming Doll's Explosive Heat Shot) is a shoot hissatsu technique.
Users
Anime
Info
Kozoumaru developed this technique during the night training on Inakunijima before the final match against Outei Tsukinomiya. He used it against Nishikage Seiya, who tried to stop it with his Ouke no Tate. However, Hidaruma Bakunetsudan easily broke through it, scoring the 2-1 for Inakuni Raimon. He later used it once again during the second half but this time it was stopped by Nishikage's Casting Arm.
Usage
The user first kicks the ball in the air. The user then stomps on the ground, out of which fire emerges. They jump up in the air, spinning with fire around them. At the top of their flight, the user comes down on the ball, while spinning fast. The fire becomes intense and the ball is launched towards the goal, with a daruma-like face on the ball.
Slideshow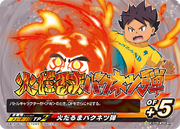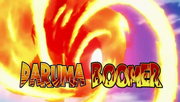 Video
Anime
Community content is available under
CC-BY-SA
unless otherwise noted.