Hissatsu Kumagoroshi Baku (必殺クマゴロシ縛, lit. Deadly Bear Killer: Restraint) is a block hissatsu technique.
Users
Anime
Info
Hissatsu Kumagoroshi Baku was used in the match between Inakuni Raimon and Hakuren. Atsuya used it to stop the combination shot of Inakuni Raimon, Hokkyoku Guma 2gou, shocking the Inakuni Raimon's players.
Slideshow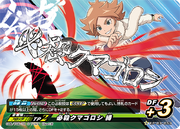 Video
See also
Community content is available under
CC-BY-SA
unless otherwise noted.