Hyakuretsu Shot
(
百烈
ショット,
Hyakuretsu Shotto
,
lit. Hundred-Extreme Shot
) is a shoot hissatsu technique.
Game description
Inazuma Eleven
"This super aerial shot is made by kicking the ball like a machine gun."
Users
Info
Original series
It was used by Jimon Daiki in episode 2 against Raimon, where it scored a goal against Endou. It was used later again in the FF match against Raimon. It was barely stopped by Endou's Nekketsu Punch, as he wasn't focusing.
Inazuma Eleven Ares no Tenbin
Jimon used Hyakuretsu Shot during the match between Teikoku Gakuen and Inakuni Raimon. It scored the 2-2, breaking through Umihara Norika's Uzumaki The Hand.
Obtainment
Inazuma Eleven
Hyakuretsu Shot can be bought by 400 Nekketsu Points in the first Inazuma Eleven game.
Inazuma Eleven 2: Kyoui no Shinryakusha
Hyakuretsu Shot's manual can be bought in Hokkaido's Hissatsu store for 400 Nekketsu Points.
Usage
The user kicks the ball multiple times while in mid-air and then kicks it with the soles of his/her shoes at the goal.
In Ares, the user seems to kick more aggressively than before and the final kick is performed with only one foot. The ball is sent towards the goal in such a way that it looks as if multiple balls had been shot at the same time.
Slideshow
Original series
Inazuma Eleven Ares no Tenbin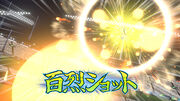 Video
Original series
Inazuma Eleven Ares no Tenbin
Inazuma Eleven GO Strikers 2013
See also