Illusion Ball (イリュージョンボール, Iryūjon Bōru) is a dribble hissatsu technique.
Game description
Inazuma Eleven
"This tricky move conjures up other balls, but which is real?"
Inazuma Eleven GO 2: Chrono Stone
"Send dozens of balls spinning past your opponent - but only one is real!"
Users
Info
Inazuma Eleven
It was first used in episode 29 by Kidou to get past Sumisu Eiji and succeeded. It was used again by Demonio Strada.
Inazuma Eleven GO
It was first used in GO in episode 31 by Shimizu Ryuuto to get past Kariya and succeeded.
Usage
The user makes three copies of the ball around them by holding the ball between the legs and doing a summersault, letting the ball bounce of the ground afterwards. The ball revolves around the user as the opponent tries to figure out which one is the real one. As the opponent is distracted the user dribbles through the opponent with the real ball. In the game and in GO, the user has to do a frontflip to make the copies of the ball.
Acquirement
Inazuma Eleven
Inazuma Eleven GO Galaxy
Normal chest in General Hospital Terrace (総合病院 テラス)
Gallery
Slideshow
Anime
Video
Inazuma Eleven
Inazuma Eleven GO
Game
Inazuma Eleven Strikers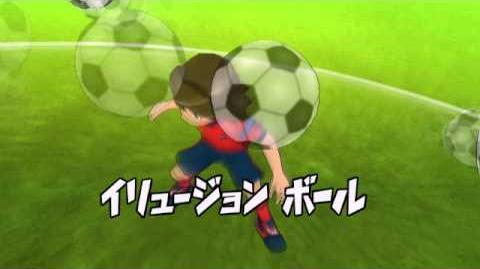 Trivia
When this hissatsu evolves to 真, the orbits of the balls are visible.

While in the game, the balls start to glow when it evolves to 真.

When Kidou Yuuto used this against Matsuno Kuusuke in the selection match, he did not perform a back flip.
Community content is available under
CC-BY-SA
unless otherwise noted.