Inazuma Eleven Everyday (イナズマイレブンエブリデイ) is a game released by Level 5 for the Nintendo 3DS platform. On 2017, during the announcement of Inazuma Eleven Eiyuutachi no Great Road, Inazuma Eleven Everyday was confirmed to have a developing mobile title for Android and iOS for 600 ¥ or about 5.29 USD.
Gameplay
Unlike the other games, you will play either as a boy or girl that is left temporarily by your parents to take care of either Endou Mamoru or Gouenji Shuuya. In the mobile game, you will also get the opportunity to take care of Kidou Yuuto as well.

You will play through their lives following the story of the first Inazuma Eleven game with extra details such as eating, sleeping, going to classes and many other daily routines.

The game follows the storyline of the first game.
The game includes a mini-game of being able to kick the ball back at the character you chose to play with.
The game follows the exact time a 3DS is set in, whether morning or evening.
Gallery
Trailer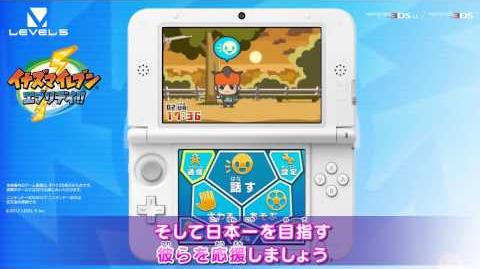 Trivia
This game can only be given or be taken by people who have bought 2 out of the following 4 games: Raimei, Neppuu, Endou Mamoru Densetsu or GO Strikers 2013.

Buying two games of the same title does not count.
External links
Community content is available under
CC-BY-SA
unless otherwise noted.