Judge Through (ジャッジスルー, Jajji Surū) is a dribble hissatsu technique.
Game description
Inazuma Eleven
Users
Manga only
Inazuma Eleven
Inazuma Eleven 2
Inazuma Eleven 3
Inazuma Eleven SD
Info
Judge Through was used in the match between Inakuni Raimon and Teikoku Gakuen. Jimon used it after Teikoku's shoes were put in their Fast mode, to make them quicker. He successfully got past Hiura Kirina.
Usage
The user passes the ball to the opponent and it lands on the target's chest. As the target is confused, the user spins and back kicks the ball while it was still on the target's chest. This move has a high foul rate in the game.
Price
Judge Through can be bought for 1200 prestige points in the first Inazuma Eleven game.
Slideshow
Game
Inazuma Eleven Ares no Tenbin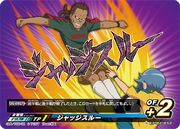 Video
Inazuma Eleven Ares no Tenbin
Game
Trivia
See also
Community content is available under
CC-BY-SA
unless otherwise noted.