Kamaitachi
(カマイタチ) is a game exclusive dribble hissatsu.
Description
Inazuma Eleven 2: Kyoui no Shinryakusha
"Cut through opponents by wrapping yourself in a whirlwind!"
Users
Inazuma Eleven
Inazuma Eleven 2
Inazuma Eleven 3
Inazuma Eleven SD
Usage
The user kick the ball in the air, then jumps and start spinnings in mid-air, catching the ball with the head, then to dribble against the opponent like a tornado.
Video
Game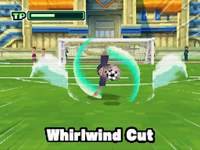 Trivia
Kamaitachi is a youkai (an element of Japanese mythology), it is like a weasel and it is associated to wind, in effect this hissatsu resembles a tornado.
Community content is available under
CC-BY-SA
unless otherwise noted.