Kasamino (傘美野) was one of the schools that was targeted by Gemini Storm in season 2.
Plot
Game
In the first game, this team actually bullied some other teams but the members of Raimon had a match against this team and they later learned their lessons, and later they became nice. They can be challenged anytime near the riverbank along with the Inazuma KFC.
Anime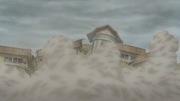 Kasamino was a newly formed soccer team in their school that debuted in episode 27. The team of Kasamino was challenged by Gemini Storm. Kasamino's captain pleaded for them to not destroy their school, but eventually forfeited for the safety of Kasamino Jr. High. Reize, the captain of Gemini Storm, declared that the weak should be destroyed. He then began to prepare for the demolition of Kasamino Jr. High, when Raimon appeared, saying they wanted to take Kasamino's place to fight Gemini Storm. Although Kasamino had high hopes for them, Raimon lost against Reize's team in the end, leaving Kasamino with a destroyed school.
Members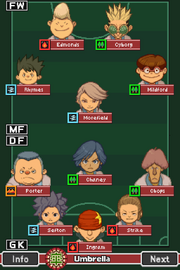 Trivia
Kasamino
Members
Community content is available under
CC-BY-SA
unless otherwise noted.