Kattobi Defense (かっとびディフェンス, Kattobi Difensu, lit. Rage Jump Defense) is a combination block hissatsu technique.
Description
Inazuma Eleven GO
"Use the power of teamwork to blast through the air and block the ball."
Users
Inazuma Eleven GO
Inazuma Eleven GO 2: Chrono Stone
Inazuma Eleven GO Galaxy
Inazuma Eleven Strikers 2012 Xtreme
Inazuma Eleven GO Strikers 2013
Inazuma Eleven SD
Info
Requiring two players to perform this technique, Kattobi Defense is seen being practiced and attempted by Tenma and Shinsuke in episode 29. It isn't completed as of yet, however.
It was used in the episode 31 by Shinsuke and Kariya to stop Yoshihiko's shoot.
After Raimon won the Holy Road, the team watched a special program that was commemorated to them on TV, showcasing their hissatsu, keshin and tactics they used and the opponents and their moves they faced during the tournament.
Usage
The first user jump on the sole of the second user's feet and the second user propels the first user to either block or steal the ball from the opponent.
Gallery
Slideshow
Anime
Video
Anime
Inazuma Eleven GO 2: Chrono Stone
Inazuma Eleven GO Strikers 2013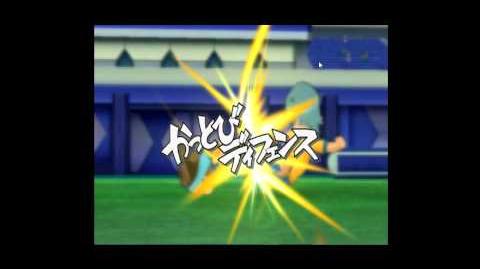 Trivia
Kariya Masaki first named it Dokkan Jump in episode 24 though it was laughed at, but it was used in episode 29. It was renamed to Kattobi Defense in episode 31.

Though, when this hissatsu is completed, Shinsuke says the word "Dokkan" when stealing the ball.
It is similar to Tatsumaki Otoshi in the sense that it requires a player to propel the other player forward, by way of using their feet to push the other, in mid-air.
"Dokkan" roughly translates to "boom".
Community content is available under
CC-BY-SA
unless otherwise noted.