Kill Bridge (キルブリッジ, Kiru Burijji) is a catch hissatsu technique.
Users
Info
Kill Bridge was used during the match between Raimon and Ancient Dark. Tsurugi Kyousuke used Devil Burst, trying to score against Ashiya, and Ashiya used Kill Bridge, successfully blocking Devil Burst.
Usage
The user's hands turns black and he raises his hands above his head, creating a bridge to the ball. The ball hits the bridge and slides along it to land in the user's hands when it is successful.
Slideshow
Movie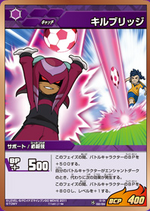 Video
Movie
GO game