Koutei Penguin 3gou (皇帝ペンギン3号, Kōtei Pengin Sangō, lit. Emperor Penguin No. 3) is a combination shoot hissatsu technique.
Description
Inazuma Eleven 3: Sekai e no Chousen!!
"When three teammates whistle up a posse of penguins, you're in for some fun!"
Users
Inazuma Eleven 3
Inazuma Eleven GO 2: Chrono Stone
Inazuma Eleven GO Galaxy
Inazuma Eleven Strikers
Inazuma Eleven Strikers 2012 Xtreme
Inazuma Eleven GO Strikers 2013
Info
The first three-dimensional shape of Koutei Penguin, Koutei Penguin 3gou combines the horizontal, vertical velocity and height. It is cited as being the most powerful Koutei Penguin shoot ever created.
In the anime this hissatsu was used in the match against Team K, Demonio Strada tried to stop the technique with his Koutei Penguin X but it fails due to its massive power. Later it was used in the match against Orpheus and Makai Gundan Z to score the final goal. In the friendly match Inazuma Japan vs Orpheus the hissatsu evolved to G2 and was used in a shoot chain with 真 Bakunetsu Screw and later in the finals against Little Gigant evolved to G3 but was stopped by Cain Saito's 真 God Hand X.
In the manga, it was used against The Empire as Team K and Kageyama doesn't appear.
Usage
All three players jump, then the user calls the purple penguins, which circle around them. An energy ball is created, then all three players shoot with their heel. 
Slideshow
Anime
Video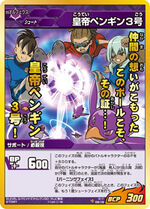 Anime
Game
Inazuma Eleven GO Strikers 2013
Trivia
All of the other Penguin moves have only 1 or 2 dimensions in their shape. But thanks to Sakuma, they were able to add the third dimension into the move, and form Koutei Penguin 3gou. This is the most powerful Penguin move that has ever been created.
In the anime, this hissatsu was originally a combination shoot created by Kidou and Fudou, but it didn't work. After watching this, Sakuma found out what was missing, and helped them to complete the hissatsu.
Before an Inazuma GO episode, Koutei Penguin 3gou was seen promoting the Happy Feet 2 movie. Kidou, Sakuma, and Fudou are seen entering a theater as well.
Community content is available under
CC-BY-SA
unless otherwise noted.