Lightning Accel (ライトニングアクセル, Raitoningu Akuseru) is a dribble hissatsu technique.
Description
Inazuma Eleven 2: Kyoui no Shinryakusha
"Dash forward like a greased lighting! They won't even have time to blink!"
Users
Inazuma Eleven 2
Inazuma Eleven 3
Inazuma Eleven GO Galaxy
Inazuma Eleven Strikers
Inazuma Eleven Strikers 2012 Xtreme
Inazuma Eleven GO Strikers 2013
Inazuma Eleven SD
Kohma (Invasion Preparation form)
Info
First seen during the match between Inazuma Japan and Neo Japan, Lightning Accel is a hissatsu technique created by Midorikawa Ryuuji. He was feeling that he was falling behind everyone, as everyone else on his team was creating new techniques and even his old rivals from Aliea Gakuen were playing better than him, but after Hiroto told him to have confidence in himself and his own soccer, he created it to get past Kirigakure and Yuukoku of Neo Japan. It was later used again to get past Hera. He used it again against Fire Dragon and easily got past Kim Eun-Young.
Usage
First the user takes a run up then white energy cloak start to appear around them. The user then dashes past the opponent in a zig zag-lightning manner.
Acquirement
Inazuma Eleven GO Galaxy
Normal chest in Dead Star's middle level (星の亡骸 中層) on Lost Galaxy
Slideshow
Anime
Video
Anime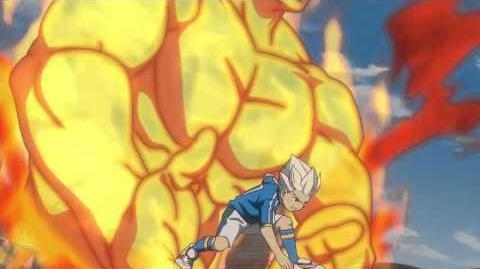 Game
Inazuma Eleven GO Strikers 2013
Trivia
Even though Midorikawa created the hissatsu during the FFI arc, it was already useable since Inazuma Eleven 2.
Community content is available under
CC-BY-SA
unless otherwise noted.