Mega Wall (メガウォール, Mega Wōru) is a game exclusive combination block hissatsu technique.
Users
Inazuma Eleven 2: Kyoui no Shinryakusha
Inazuma Eleven 3: Sekai e no Chousen!!
Usage
This technique involves two users. The first user lifts up the second user with both arms, as the second user grows like an inflated balloon. The second user is then thrown at the target in possession of the ball, hitting the ground and knocking the ball out of their possession.
Slideshow
Anime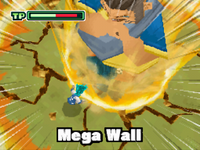 Community content is available under
CC-BY-SA
unless otherwise noted.