Mokkori Oka no Moai (もっこり丘のモアイ, lit. Rising Hill Moai) is a block hissatsu technique.
Users
Manga
Inazuma Eleven SD
Info
During the match between Minodouzan and Inakuni Raimon, Moriagari used Mokkori Oka no Moai to stop Goujin Tetsunosuke from advancing towards Minodouzan's goal. He succeeded in taking the ball from Goujin.
Usage
The user raises his hands and slams it into the ground, creating shock waves. The ground under the opponent starts to bulge, making the player stop running. Then the ground raises up and takes the player high. Under the player, the ground opens, and a big Moai shoots up and launches the player high into the sky, making him disappear. After that the ball lands at the user's feet and he claims possession.
Slideshow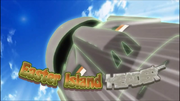 Video
Anime
Community content is available under
CC-BY-SA
unless otherwise noted.