Muei Ranbu (無影乱舞, lit. Shadowless Dance), also known as Defense Command 21 (ディフェンスコマンド21, Difensu Komando Touenī-Wan) and Defense Command 14 (ディフェンスコマンド14, Difensu Komando Fōtīn), is a combination block hissatsu technique.
Description
Inazuma Eleven GO 2: Chrono Stone
"Stun your opponent with feats of perfectly precise acrobatics!"
Users
Anime only
Inazuma Eleven GO 2: Chrono Stone
Inazuma Eleven GO Galaxy
Info
It first appeared in episode 38, used by three members of Perfect Cascade, while they were using Keshin Armed and in Hyper Dive Mode. Using it, they got the ball from Fei, and later from Kinako.
Usage
This technique involves three users. First the users stand in a triangle formation, then they jump around the opponent in a rapid manner, confusing them before one of the users steals the ball.
Slideshow
Anime
Video
Anime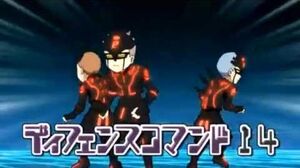 Trivia
In the anime, this hissatsu is known as Defense Command 14 while it is named Defense Command 21 in the game.
It has an offensive counterpart which is Muei Souha.
Community content is available under
CC-BY-SA
unless otherwise noted.