Onryou (おんりょう, Onryō, lit. Revengeful Ghost) is a game exclusive block hissatsu technique.
Game description
Inazuma Eleven
"There's no escaping those spooky hands which come out of the earth!"
Users
Inazuma Eleven
Inazuma Eleven 2
Inazuma Eleven 3
Usage
The user pulls his hand straight backwards and then punches it into the ground, creating a purple shock-wave sent at the opponent. As the opponent proceeds with the ball, the shock-wave hits him, stopping him in his path. Certain hands appear from the sock-wave and hold the opponent's legs, preventing him to move. Then, the user gains possession of the ball and sprints away.
Slideshow
Game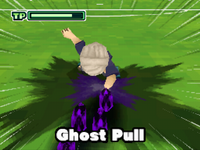 Video
Game
Community content is available under
CC-BY-SA
unless otherwise noted.