Ouja no Takuto (王者のタクト, lit. King's Baton) is an offensive hissatsu tactics.
Users
Anime
Info
The tactic was used during the match between Eternal Dancers and Inazuma Japan. Nosaka initiated the tactic to get past Eternal Dancers' defense. Asuto, Hiura, Fudou and Ichihoshi were sent in directions to get behind enemy lines.
Usage
The user gets a King's mantle and sends red lines across the pitch, directing the movements of their teammates. After getting past enemy lines, the 4 users end up in a line running through on goal.
Slideshow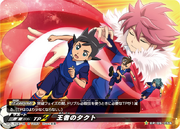 Video
Anime
See also
Community content is available under
CC-BY-SA
unless otherwise noted.