Red Hot Chili Meteor (レッドホットチリ・メテオ, Reddo Hotto Chiri Meteo) is a block hissatsu technique.
Users
Anime
Inazuma Eleven AC: Dream Battle
Info
This technique was used during the match between the Arab no Hinotori Gundan and Inazuma Japan. Pekka Ream used this technique against Ichihoshi to try to stop him from advancing. The smaller meteorites kept smashing around Ichihoshi, while he was thinking about his brother. When he was brought to tears, the huge meteorite came crashing down, aimed for Ichihoshi. The meteor crashed down on Ichihoshi, knocking him down. Immediately after, the first half ended, with Ichihoshi shook and he had taken a bad hit.
During the second half, Pekka used his Red Hot Chili Meteor again on Ichihoshi. However, as Ichihoshi had merged with his brother, Mitsuru, he now was able to easily avoid the meteors of the technique, and dodged them all, getting through on goal.
Usage
The user spins around in the air, with a fiery aura on their hands. The user crosses their arms and reaches up, shooting an orange beam into the clouds. The clouds part in a circle pattern, and from above the clouds, small meteors come flying down. After that, another huge meteor comes crashing down. These meteors hit the opponent, taking the ball from them.
Slideshow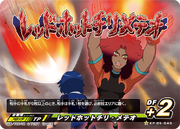 Video
Anime
Community content is available under
CC-BY-SA
unless otherwise noted.