Sengoku Igajima (戦国伊賀島) is a team that is trained like ninjas. They were a participant in the Football Frontier.
Uniform
Members of Sengoku Igajima wear ninja-like outfits. The standard jersey conisists of a collared purple T-shirt with grayish-light blue stripes around the arms and around the neck area, which is worn over a gray shirt with a fishnet pattern. The name of the team is written in white on the upper-left area of the shirt. Shorts are colored dark purple with a grayish-light blue stripe on both sides. The socks are gray, worn under dark purple and grayish-light blue tabi shoes. On the other hand, the goalkeeper's uniform consists of a dark, grayish-teal long-sleeved shirt with gray cuffs. Gloves are light gray with a section of grayish-blue. A grayish-blue colored "X" is patterned on the front of the shirt and stripes around the arms are of the same color. Dark grayish-blue shorts lined with periwinkle stripes are fitted with the same color of socks and shoes as the standard uniform. The captain's band is colored light gray.
Members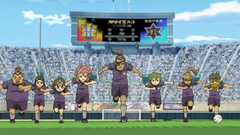 Hissatsu tactics
Matches
Sengoku Igajima vs Raimon
In the first match of the nationals of Football Frontier they play against Raimon. At the beginning they had the lead of the match, but when Kazemaru regained his confidence, they lost the match with 2-1.
Gallery
Trivia
This team, along with Occult, is one of two teams in the Football Frontier to use what would later become Hissatsu Tactics.
Excluding Raimon, this is the only known junior high team with managers.
Sengoku Igajima
Members
Coaches
Community content is available under
CC-BY-SA
unless otherwise noted.