Shadow Ray (シャドウ・レイ, Shadou Rei) is a combination shoot hissatsu technique.
Description
Inazuma Eleven Strikers
Users
Inazuma Eleven 3: Sekai e no Chousen!!
Inazuma Eleven Strikers
Inazuma Eleven Strikers 2012 Xtreme
Inazuma Eleven GO Strikers 2013
Inazuma Eleven SD
Wood
Earth
Info
Anime
It is one of the hissatsu to have two elements along with Crossfire and Fire Blizzard. This was used by Desuta and Sein to score a goal in episode 111, breaking through Endou's Ijigen The Hand 改, but was blocked by Kabeyama's The Mountain, Tobitaka's Shinkuuma and Ijigen The Hand 改 the second time. The third time was unsuccessful as well, as it was blocked by 真 Ijigen The Hand.
Game
In the Inazuma Eleven 3 game, the roles of the shooters are reversed due to their corresponding elements. This shoot require a partner from either Wood or Earth, depending on which element the hissatsu waza is equipped with.
Usage
This technique requires two users. The first users spins the ball with his/her leg as it gathers dark energy then the second users does a backflip and kicks the ball towards goal in a stream of light and dark energy.
Gallery
Slideshow
Anime
Video
Anime
Game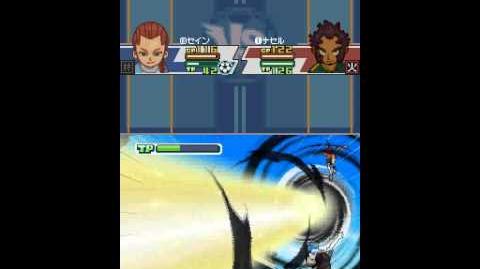 Inazuma Eleven GO Strikers 2013