Shellbit Burst (シェルビットバースト, Sherubitto Bāsuto) is a shoot hissatsu technique.
Description
Inazuma Eleven GO 2: Chrono Stone
Users
Inazuma Eleven GO 2: Chrono Stone
Inazuma Eleven GO Galaxy
Inazuma Eleven GO Strikers 2013
Info
Inazuma Eleven GO Chrono Stone
Shellbit Burst was used thrice by Saryuu Evan during the Ragnarok finals between Chrono Storm and The Lagoon. Its first attempt easily scored the first goal for his team, passing through Nishizono Shinsuke who wasn't able to react quickly enough to use a hissatsu. SARU used his technique the second and third time while he used his Mixi Max and Keshin Armed at the same time. The second attempt scored the fourth goal for his team, breaking through Shinsuke's Taikoku Ouka 改, while the third attempt failed since Matsukaze Tenma, Shindou Takuto and Tsurugi Kyousuke lessened its power, and thanks to them, Shinsuke succeeded in stopping Shellbit Burst by using 真 Taikoku Ouka.
Movie
It was used in the Inazuma Eleven Chou Jigen Dream Match movie during the match between Inazuma Best Eleven and Inazuma Battle Eleven by SARU with a new typography. However, SARU failed to score a goal by using the technique since Endou Mamoru managed to stop it with God Hand.
Usage
The user first steps on the ball on the side and the ball goes up and creates seven green, hexagonal panels. Then, they kick the ball to the central panel. Finally, they make a gesture and each pannel shoots a powerful, yellow beam towards the goal.
Gallery
Slideshow
Anime
Video
Anime
Inazuma Eleven GO 2: Chrono Stone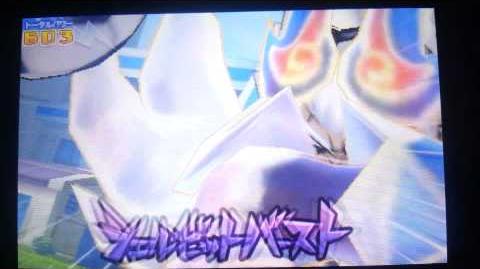 Inazuma Eleven GO Strikers 2013
Trivia
Community content is available under
CC-BY-SA
unless otherwise noted.