Shinkuuma (真空魔, lit. Hollow Demon) is a block hissatsu technique.
Users
Info
Tobitaka first used an incomplete version to block Shadow's Dark Tornado in the match between Inazuma Japan A vs. Inazuma Japan B.
Tobitaka mastered the move in the match versus Fire Dragon as he used it to steal the ball before letting Aphrodi, Nagumo and Suzuno perform Chaos Break.
The move evolved to V2 in the match against the Kingdom to stop Roneijo's Strike Samba V3
It was later used by Tobitaka in the FFI Final and it was already in its V3 state. 
Usage
Based on a kick Tobitaka did when he was still a gangster, Shinkuuma displaces the air in front of the kick, drawing the air and the ball into that spot, almost like a vacuum.
Acquirement
Inazuma Eleven GO Galaxy
Normal chest in Inazuma Town in the Past: Shopping District (過去の稲妻町 商店街)
Gallery
Slideshow
Anime
Video
Anime
Movie
Game
Chrono Stone game
Inazuma Eleven Strikers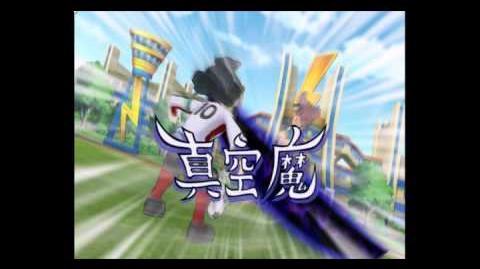 Trivia
In the anime, the ball lands on the ground. In the game, the ball lands on the user's leg.

In the Inazuma Eleven Movie, the ball lands on Tobitaka's chest.

In the Latin American dub, Shinkuuma is the only hissatsu that retains his original japanese name.