Shourinji Kousoku Juuhachijin (少林寺光速十八陣, lit. Shaolin Temple's Lightspeed Eighteen Men Formation) is an offensive hissatsu tactics.
Users
Anime
Info
This hissatsu tactic was used during the match between the Soccer Zatsugidan and Inazuma Japan. It was used to steal the ball from Inamori Asuto and further move up the field. Later, it was also used to get the ball from Goujin Tetsunosuke, but the tactic was broken when Asuto used his Inabikari Dash to mark the captain, and he was able to steal the ball.
Usage
This tactic requires that all the teammates simultaneously do a Chinese kung fu move, followed by a quick leap and fast running. Each player will produce two afterimages of themselves that can all move, trap, and steal the ball easily. 
Slideshow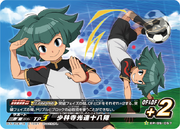 Video
Anime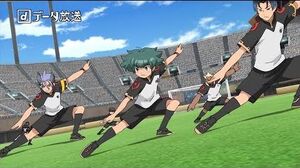 Community content is available under
CC-BY-SA
unless otherwise noted.