Space Penguin (スペースペンギン, Supēsu Pengin) is a combination shoot hissatsu technique.
Description
Inazuma Eleven Strikers
"A special version of Emperor Penguin - this time, with space penguins!"
Users
Inazuma Eleven 2
Inazuma Eleven 3
Inazuma Eleven Strikers
Inazuma Eleven Strikers 2012 Xtreme
Inazuma Eleven GO Strikers 2013
Inazuma Eleven SD
Info
This move was described to be The Genesis' strongest hissatsu technique, and is only able to be used after they released their body limiter. This hissatsu move could strain the bodies of the users, in a similar way as the two forbidden moves, Beast Fang and Koutei Penguin 1gou. It broke through Mugen The Hand G3 but was stopped by Mugen The Hand G4.
In order to get its manual in Inazuma Eleven 3: Sekai e no Chousen!!, you need to go to the Argentinian hissatsu shop, speak to the man facing the bookshelves about four times, then head to the Japan area's hissatsu shop where you'll find the same man, then speak 8 times with him. Once you did this head to Northen Tokyo, the Shopping Area and go to the Game Shop in the Arcade part of the shopping district. The Game Shop is located besides the Gasha Coin Machine. Once you enter the shop you'll find the same man, you'll need to speak to him once more and he'll give you the manual for Space Penguin.
Usage
This technique requires three players. The main user send two users to jump up in the air and the main user produces dark aura, summoning five penguins wearing a spacesuit. Once summoned, the penguins fly towards the two users around the ball as they kick simultaneously towards the goal. 
Slideshow
Anime
Video
Anime
Game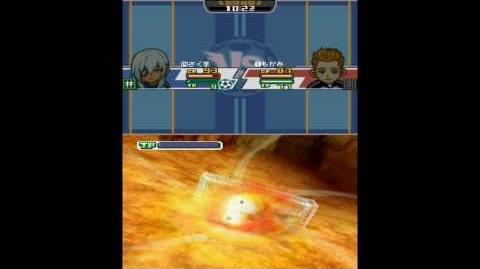 Inazuma Eleven GO Strikers 2013
Trivia
Interestingly, of the Koutei Penguin variants that appear throughout the story, this is the only one to have no implied relation to Teikoku Gakuen.
This is the first hissatsu in the Koutei Penguin family where the user doesn't need to whistle.
Community content is available under
CC-BY-SA
unless otherwise noted.