Spinning Fence (スピニングフェンス, Supiningu Fensu) is a block hissatsu technique.
Users
Anime
Inazuma Eleven AC: Dream Battle
Info
Kazemaru used Spinning Fence during the match between Inazuma Japan and Red Bison. Baek Shi-Woo used Red Break to try and score the first goal for his team but Kazemaru used this technique to prevent him shooting, also stealing the ball in the progress.
This technique was used again during the match against Perfect Spark. Kazemaru used this technique to steal the ball from Yuri Rodina and immediately passed the ball to Kozoumaru.
Usage
The user spins around and summons 4 clones of the user. They all jump in the air and spin around, creating huge whirlwinds. These whirlwinds come together around the opponent, completely covering them. The user then jumps out of the whirlwind, with the ball at their feet.
Slideshow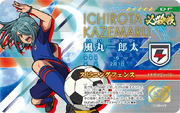 Video
Anime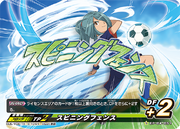 Trivia
This technique is similar to Bunshin Defense, one of Kazemaru's defense techniques in the original timeline, in the fact that the user creates clones of himself first.
Community content is available under
CC-BY-SA
unless otherwise noted.