Suisei Girls (彗星ガールズ, Suisei Gaaruzu) is the first ending song for Inazuma Eleven Orion no Kokuin.
Lyrics
TV size
Romaji
Totsuzen no sapuraizu shoujo
Dare yori mo kagayaku no suisei gaaruzu
Koona fuuni anata no mae ni
Derareru to omowanakatta
Goran hora kono hitomi
Uso nante tsukanai shinjite yo
Ai no uta utawanakya
Mitasarenai daremo
Kono hoshi wa yokubou darake damon
Totsuzen no sapuraizu dakedo
Shukumei wo yurushite ne suisei gaaruze
Massugu na watashi ga watashi dashi
Aaa susei gaaruzu
Aaa susei gaaruzu
English translation
Video
Anime version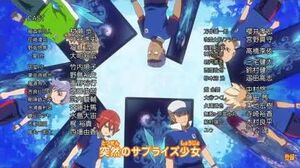 Trivia
The ending cards are based on the Werewolf Game, which also refers to Orion's storyline: They have to find out and kill The Werewolf (Ichihoshi), who gradually kills and makes them out of the game, with the help of The Seers (Kidou and Nosaka).

It's unknown that how The Werewolf Asuto works with this game, but Hino stated that the game had not been over yet, even though they killed The Werewolf Ichihoshi.
They also said that some roles were not necessary to fit in the actual anime.
Community content is available under
CC-BY-SA
unless otherwise noted.