The Galaxy (ザ・ギャラクシー, Za Gyarakushī) is a game exclusive combination shoot hissatsu technique.
Users
Inazuma Eleven 2: Kyoui no Shinryakusha
Inazuma Eleven 3: Sekai e no Chousen!!
Usage
Three of your teammates need to be used for this technique. One teammate stays behind the two other teammates and punches the ground, making a green hand come out of the ground where the user and the partner is standing. The hand sends the other two teammates into the outer space, and the two teammates kick the ball back down to the goal, as if the ball were a meteor.
Slideshow
Game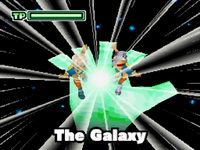 Video
Game
Trivia
This is the most expensive hissatsu in the first game costing 8000 Nekketsu Points. In the Japanese version it was unlocked via Wi-fi download. In the localized version it can be bought after finishing the game.
In the second game, this move along with Dark Phoenix are the most expensive hissatsu with a total of 25000 Nekketsu Points.
Community content is available under
CC-BY-SA
unless otherwise noted.