The Kingdom (ザ・キングダム, Za Kingudamu) is Brazil's national team. It is the only team to have won all their preliminary matches, but they later lost to Inazuma Japan.
Uniform
Their uniform consists of a green collar and two green stripes at each side of their jersey. The main color of their whole jersey is yellow. Their shorts are overall blue in color with green stripes at each side. Socks are white, and cleats are gray. Goalkeeper uniform is a green top with a yellow collar, two vertical yellow stripes, yellow cuffs, and black shorts. Gloves are white. Socks and gloves are as same as in fieldplayer uniform. Mac Roniejo assumes the captain's band, which is orange.
Members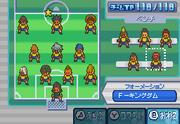 Falcão da Silva (GK)

Lagarto Carlos (DF)
Bagre Antonio (DF)
Monstro (DF)
Formiga Cremens (DF)
Presa (MF)
Borboleta Barbosa (MF)
Coruja Cerezo (MF)
Leonardo Almeida (FW)
Mac Roniejo (FW/captain)
Gato (FW)
Javali Ribeiro (GK)
Urso Nogueira (DF)
Cavalo Oliviera (DF)
Tigre Mendes (MF)
Grilo Santos (FW)
Hissatsu tactics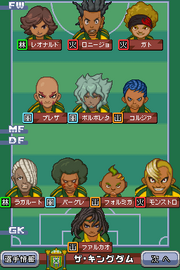 Matches
They won their match against Rose Griffon because of their hissatsu tactic, Amazon River Wave. This ensured their advance through Block B.
The Kingdom got 1 point in the first half when they were playing against Inazuma Japan, then another point in the second half.  Inazuma Japan got all 3 of their goals in the second half of the match. In the end, The Kingdom lost.
Trivia
Excluding Leonardo Almeida, Presa, Monstro and Mac Roniejo the entire team is named after an animal and also have common Brazilian names.
The whole team in the anime is shown to know how to dance, as shown when Roniejo scored with Strike Samba, everyone else danced because he scored.
Community content is available under
CC-BY-SA
unless otherwise noted.