The Mist (ザ・ミスト, Za Misuto) is a block hissatsu technique.
Users
Info
Kirino first used this hissatsu during the match between Raimon and Teikoku Gakuen. Kirino used it on Itsumi Kunihiko and successfully stole the ball from him by using the hissatsu.
It is used again in the episode 27 and failed against Seki due his rough play. Unlike the others, he wasn't confused by the fog so he charged straight through, tackling Kirino hard and passing through the hissatsu.
It used again in episode 42 to steal the ball from a member of Seidouzan and it succeeded succesfully.
After Raimon won the Holy Road, the team watched a special program that was commemorated to them on TV, showcasing their hissatsu, keshin and tactics they used and the opponents and their moves they faced during the tournament.
Usage
The user first walks towards the direction of the player in possession of the ball. A thick cloud of mist surrounds the user and the area around the player keeping the ball. As the mist surrounds them, the target gets confused, and then the user spots the ball quickly and steals the ball. The user dashes out of the mist, in possession of the ball. The opponent doesn't notice that the ball is gone because the opponent is still stuck in the thick cloud of mist.
Gallery
Slideshow
Anime
Video
Anime
Inazuma Eleven GO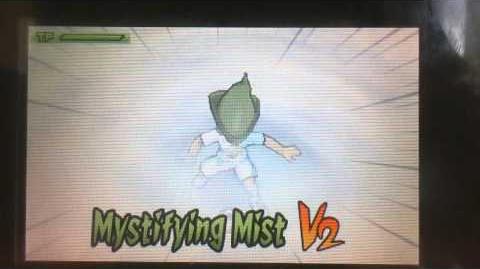 Inazuma Eleven GO Strikers 2013
Trivia
"Kiri" means mist. The name of this hissatsu may be a pun on Kirino's name.
In the game, Kirino appeared to be walking slowly toward the opponent, not running like in the anime.
This hissatsu has an evolved form called Deep Mist.