Time Trance (タイムトランス, Taimu Toransu) is a shoot hissatsu technique.
Users
Anime
Inazuma Eleven AC: Dream Battle
Inazuma Eleven AC: All Stars
Info
Time Trance was first used during the match between Inazuma Japan and Shining Satans. During the first half, Satan Gaul used the technique three times. Because of the tricky move, it made Endou mistime his catch technique, Fuujin Raijin. As he missed the shot every time, Time Trance scored three goals in the first half, making the score 1-3 at half time. Satan used it as well in the second half. Endou still hadn't figured out how to stop it, but managed to get a hand to the shot. However, the power was too great, and Time Trance scored, making the score 1-4. When Satan used it again, Raimon Natsumi gave Endou a hint on how to stop it. This resulted in Endou releasing his Fuujin Raijin to stop the first part of Time Trance, and then summoning the third Majin as a new hissatsu technique Fuujin Raijin Ghost, finally stopping Time Trance. Satan used it again in his third form, trying to score the winning goal for Shining Satans. However, Endou easily stopped it with his Fuujin Raijin Ghost.
Usage
The user crosses their arms and bows forward. When going up, the ground around their feet ripples. A clock appears and starts going round. At 06:16 the clock hands stop and the user kicks the ball. The ball goes towards the goal in a hypnotic aura. After the user tried stopping the shot, the user kicks another shot to the goal.
Slideshow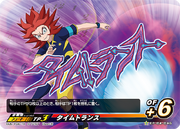 Video
Anime
Trivia
Community content is available under
CC-BY-SA
unless otherwise noted.