Tokkou Buffalo Train (特攻バッファロートレイン, Tokkou Baffarō Torein, lit. Kamikaze Buffalo Train) is a combination dribble hissatsu technique.
Users
Anime
Inazuma Eleven AC: Dream Battle
Inazuma Eleven AC: All Stars
Info
Tokkou Buffalo Train was used during the match between Inazuma Japan and Red Bison. The users managed to get past Hiura Kirina, even though Hiura managed to dodge the bison charging for him. It was later used again in the second half, the three users managed to push away multiple opponents of Inazuma Japan, and advanced towards Inazuma Japan's goal.
Usage
The three users run together, leaving marks of red smoke. The users then shape their arms as the horns of the buffalo. The users keep on running, while a red buffalo appears. The buffalo charges for the opponent, pushing them aside.
Slideshow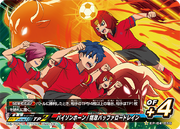 Video
Community content is available under
CC-BY-SA
unless otherwise noted.