Triangle Z (トライアングルZ, Toraianguru Zetto) is a combination shoot hissatsu technique.
Profile
Inazuma Eleven
"Three players combine their power by forming a Z in the air."
Users
Inazuma Eleven
Inazuma Eleven 2
Inazuma Eleven 3
Inazuma Eleven Strikers
Inazuma Eleven Strikers 2012 Xtreme
Inazuma Eleven GO Strikers 2013
Inazuma Eleven SD
Info
Original series
Triangle Z was first used by the Kidokawa Junior High's strikers, the Mukata triplets. This technique is the third to break through God Hand. This urged Endou to make a better technique. It was later evolved into Triangle Z 改 and was used by the players of Neo Japan but it was stopped by Tobitaka's incomplete hissatsu.
Ares no Tenbin series
Triangle Z was used in the match between Seishou Gakuen and Kidokawa Seishuu. The Mukata triplets used the technique from a standing position to create an Override technique with Gouenji's Fire Tornado, creating Bakunetsu Storm. This technique scored Kidokawa Seishuu's first goal. Later in the match, they used it again, though this time as a normal shot, as Gouenji drew the defenders to him, to create space for the triplets. They shot it towards Gouenji, faking another Override, but due to an effect on the ball, it changed direction to the goal, scoring Kidokawa Seishuu's second goal.
Obtainment
Inazuma Eleven 3: Sekai e no Chousen!!
The manual for Triangle Z can be bought for 10000 Nekketsu Points at Cotarl's Hissatsu store.
Usage
This hissatsu involves three users. The first user kicks the ball to the second while the second kicks the ball back with a bicycle kick. The third user jumps on the first and kicks the ball towards the goal before falling down and forming a triangle.
Slideshow
Original series
Ares no Tenbin series
Video
Original series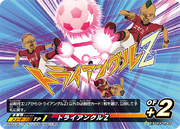 Ares no Tenbin series
Inazuma Eleven GO Strikers 2013
See also
Community content is available under
CC-BY-SA
unless otherwise noted.