Trick Ball (トリックボール, Turikku Bōru) is a dribble hissatsu technique.
Description
Inazuma Eleven GO
"Make your opponents cower with this illusion trick!"
Users
Inazuma Eleven GO
Inazuma Eleven GO 2: Chrono Stone
Inazuma Eleven GO Galaxy
Info
This hissatsu used in episode 34 by Shiranui from Genei Gakuen to pass Hamano.
Usage
The user kicks the ball up and the ball becomes huge while in the air. Then, it pretends to smash on the target, making the target flinch.
Acquirement
Inazuma Eleven GO Galaxy
Technique shop in Juuro Village (ジュウロ村) on Ratoniik, 1500P
Slideshow
Anime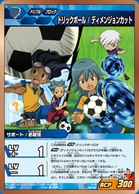 Video
Anime
Game
Community content is available under
CC-BY-SA
unless otherwise noted.