Water Veil (ウォーターベール, Wōtā Bēru) is a dribble hissatsu technique.
Description
Inazuma Eleven Strikers
"Call up a wall of water to leave your opponents all washed-up!"
Users
Inazuma Eleven 2
Inazuma Eleven 3
Inazuma Eleven Strikers
Inazuma Eleven Strikers 2012 Xtreme
Inazuma Eleven GO Strikers 2013
Info
Anime
It was used to defeat Kabeyama's hissatsu The Wall and Touko's hissatsu The Tower in episode 54. In episode 58, it was used again to defeat The Wall.
Game
It has a striking resemblance at another hissatsu called Flame Veil since both use the same move but the difference is in the elements.
Slideshow
Anime
Video
Anime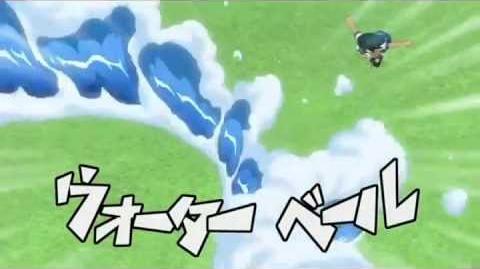 Inazuma Eleven GO Strikers 2013
Inazuma Eleven Online
Trivia
This hissatsu has an opposite version, called Flame Veil.
Community content is available under
CC-BY-SA
unless otherwise noted.