Whale Guard (ホエールガード, Hoēru Gādo) is a game exclusive combination block hissatsu technique.
Users
Inazuma Eleven 2: Kyoui no Shinryakusha
Inazuma Eleven 3: Sekai e no Chousen!!
Obtainment
Inazuma Eleven 2: Kyoui no Shinryakusha
Whale Guard's manual can be bought completing Oumihara's Lower Taisen Route route and taking the Treasure chest.
Info
In the game, this is one of Tsunami's default hissatsu. Also, this is a combination hissatsu that requires another player with a large body-type.
Usage
The user with larger body lies down as the other user jump on the first one. Then the second user blow into a seashell, calling a whale to block the opponent. The whale swallows up the opponent and blows the ball out of its blowhole.
Slideshow
Game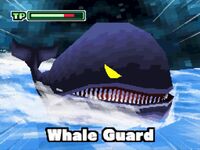 Video
Game
Community content is available under
CC-BY-SA
unless otherwise noted.